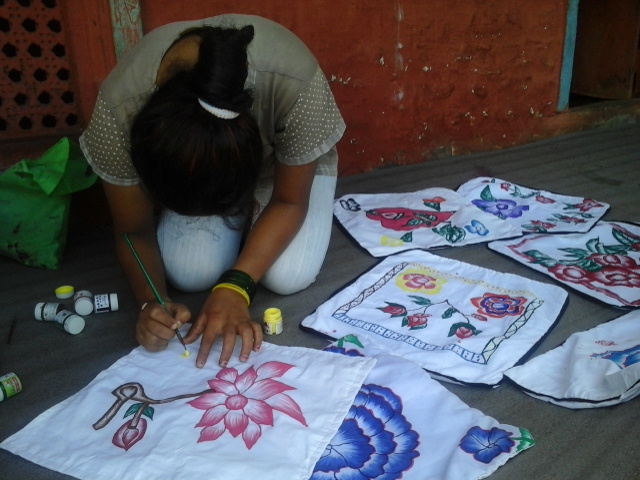 Providing a safe place for women victims of violence and abuse
Violence and bias against women is widespread in Nepal. It is an issue than the government and organisations are slowly trying to address but this is all the more challenging, as it is associated with traditional cultural practices such as the Deuki (the act of offering young girls to Hindu temples to live without proper care or education) and Chhaupadi (when menstruating women are kept away from the home often in the cow/goat shed to live under harsh conditions).
There is also the common issue of domestic violence not only linked with alcoholism but also to the fact that almost a quarter of Nepalis (men (21.5%) and women (23.2%)), find wife-beating justifiable (UNICEF, 2012).
Many women are often driven to the street due a range of factors including poverty, the fact that they are unable to afford a dowry to their husband's family, or when they aren't able to give birth to a male thus driving their husbands to take another wife…
Project overview
In partnership with Kopila Nepal, CWS has been supporting a shelter for women who have been found on the streets or who are in dire need of support since February 2014. They are provided with basic services (shelter, food, healthcare), counselling and therapeutic and income generation activities and skills.
In the meantime, Kopila staff work to track down their families (fathers, sisters, children…) and reintegrate them when it is possible. Some of the women we support have undergone severe trauma and suffer from psychosocial and mental problems; they need long-term support.
Objective
The main objective of this project is to support these women and help rehabilitate them. Where possible we reintegrate them within their families and otherwise we find long-term care and solution for them. This is extremely challenging in Nepal due to the lack of support and facilities for women suffering from mental disabilities and in need of psychosocial care.
The women are cared for, receive counseling and carry out therapeutic activities. Often after a few weeks or a few months in our safe home, their conditions improve considerably.
Beneficiaries in 2014
45 women and girls were housed in the safe home (including 3 babies born from women in the home).
17 are currently staying there
21 were reintegrated with their family members
6 left on their own
5 were referred to other organisations