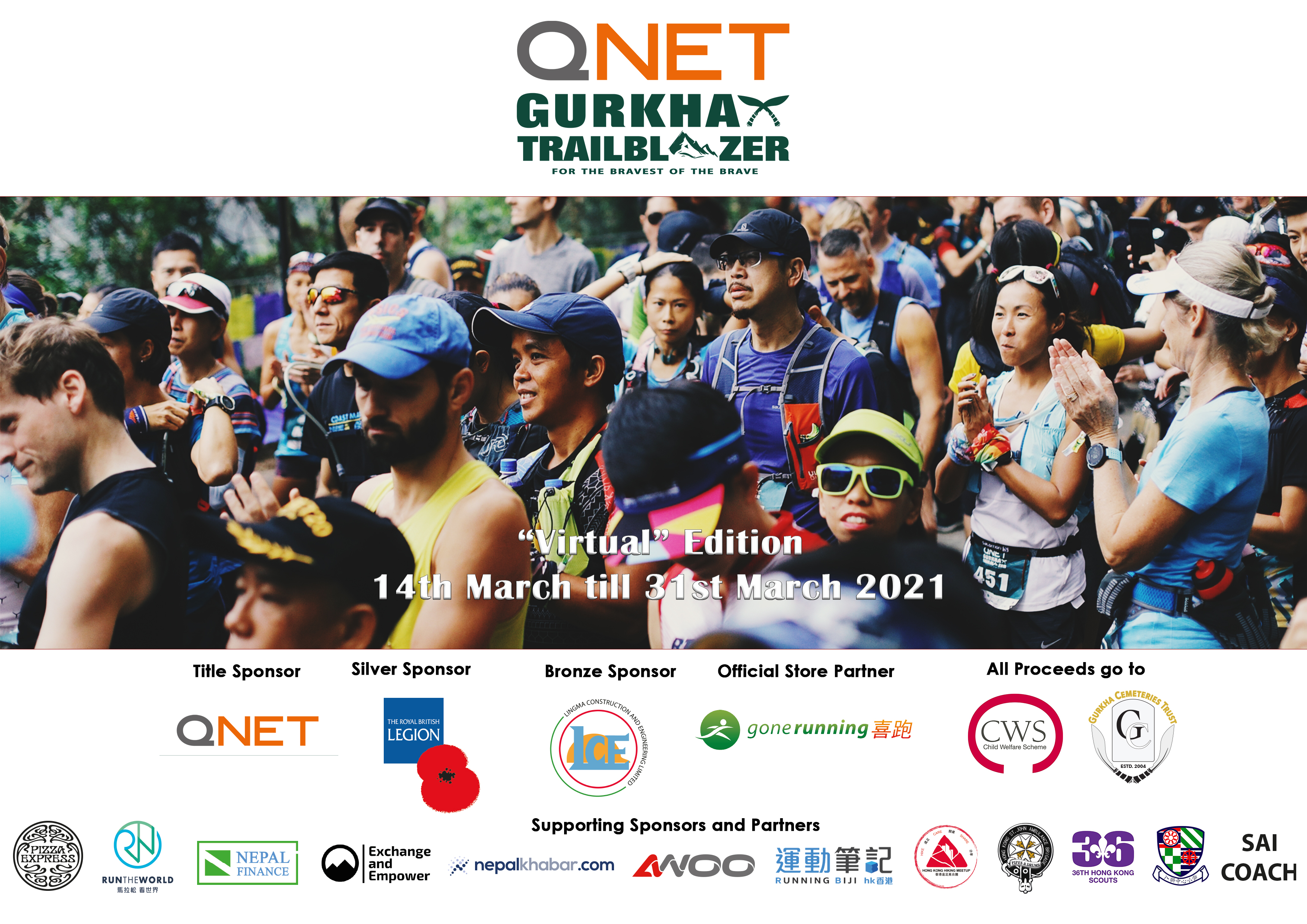 QNET GURKHA TRAILBLAZER 2021
Virtual Edition 14th - 31st March
Together, you have raised additional funds over $58,000 and still counting. Please visit this link for more info.
A huge thank you to our participants, sponsors and running community of Hong Kong for their participation in our 3rd edition of Gurkha Trailblazer.
We are tallying the race results which will be updated on our event website www.gurkhtrailblazer.com
GORDON AND DOUGLAS TAKE IT TO THE TRAILS AGAIN!
RACING THE PLANET GEORGIA 2020 (CANCELLED)
Its happening! Stay tuned for more details.
Hitting The Trail
EVERYDAY
DINE FOR CHARITY
AT PIZZA EXPRESS
Visit Pizza Express and order a Piccolo children's meal and Pizza Express will donate $1 to CWS.
COVID-19 HONG KONG VIRTUAL MARATHON 
31st August 2020
More than 40 runners participated in this challenge and raised over HK$4,000. Thank you so much for your love and support!
Special thanks to FringeBacker for hosting the event.
For more info visit www.hkvirtualmarathon.com
DANCE FOR CHANGE
HIMALAYAN NIGHTS DANCE PARTY
Raising funds to improve the future of Nepal's disadvantaged children and young people
25 January, 2019
An amazing group of ladies came together to put on a fabulous party in memory our late co founder Ms. Sandra d'Auriol. The event raised just over a whopping total of HK$200,000! We are grateful to these amazing ladies who put in so much effort to make it a very memorable event.
CWS IS GRATEFUL TO THE THREE AWESOME TEAMS WHO
RAN THE OXFAM TRAIL COMPETITION ON CWS's BEHALF
16 November, 2018
We are thrilled to announce that 3 teams participated on behalf of CWS at the OXFAM Trailwalker successfully raising a whopping HK$350,000. A Big Thank You to Team Race2Raise (Tina Täck, Camilla Porling, Jonette, Ivan Van Eetvelt & Robbie), Team CWS 0243 (Servaas, Jeroen, Stephan & Jelle), Team CWS 0244 (Victor, Derk, Jan & Rogier) and all the donors and supporters. Honorable mention: Tara J Smyth!
ALAIN ESSEIVA IS CWS's HERO FOR COMPLETING THE RACING THE PLANET 250K GOBI DESERT RACE ON CWS's BEHALF


29 July, 2018
CWS's GURKHA TRAILBLAZER WINS HONG KONG's BEST
NEW TRAIL RACE IN 2018
July 31, 2018
FOUNDER DOUGLAS MACLAGAN WINS WORLD OF
CHILDREN HERO AWARD
19 April, 2018