Prolonged school closures, forbidden social interactions, flooding uncertainties and anxieties… The pandemic is indeed posing inescapable frustrations to every one of us. With no exception, the situation is as well alarming in Nepal. "As many as 2,061 children below the age of 18 years have been infected with the novel Coronavirus," Jageshwor Gautam, spokesperson at the Ministry of Health and Population said in a regular press briefing.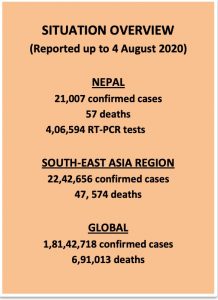 Source: WHO Nepal Situation Updates on COVID-19
According to the most recent updates by the Worldometer, confirmed cases surged up to 20,332 totalling 57 deaths. "Infection rate among children in Nepal is higher than the global average," Sameer Kumar Adhikari, joint spokesperson at the Health Ministry, told Xinhua. All 77 districts of seven provinces in Nepal are affected by COVID-19. Yet, it is fortunate to know that there have been no cases reported for the last 14 days or more from 7 districts i.e. Bhojpur, Dolkha, Dolpa, Manang, Mustang, Rasuwa and Sankhuwsabha.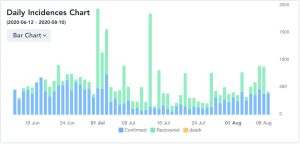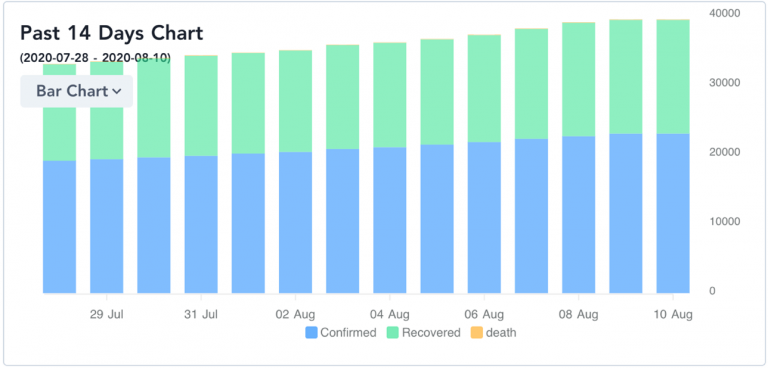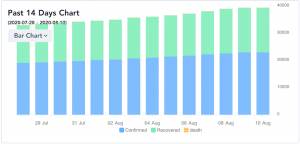 Source: Coronatracker – Nepal
"The virus has been basically transmitted to the children from their parents at the quarantine centres where they stayed together after returning from abroad," said Adhikari.
In response to the pandemic COVID-19, we are implementing two programmes namely 'Activity Book for Children' and the 'School Support Programme' to promote self-learning opportunities for children during this time of school closures. The first programme provides support for the continuation of education as most of the schools are located in rural and remote areas and all the students do not have access to television classes offered and to online classes on the Internet. In coordination with schools and subject experts, a 'Self-learning Exercise Book' was developed on the basis of the prescribed curriculum and the text books which contains exercises for all the major subjects for 90 days. The 'School Support Programme' would work to sensitize the same 69 schools and support them with health and safety precautionary measures, to disinfect and sanitize the buildings, classrooms and school premises. In terms of our target area and beneficiaries, 69 community schools of Kaski district with a total of 9537 children aged between 4 to 17 would be benefited from the project.
In light of prior predictions that the lockdown period will be prolonged, our Kopila Safe Home project has prepared all the food and resources needed in order to provide security, shelter, counselling and rehabilitation services to the victims of trauma even during this critical period.
At Alexander Home, our team are on alert and supervised visits are only allowed certain time of the day in order to keep the children safe as they are especially prone to get infected due to their pre-existing health condition.
COVID-19 has undeniably been an excruciating time for all of us. Yet, may we remain vigilant on things like our hygiene and together stay poised in fighting this global challenge.
Esther Ng
'Esther is currently a student intern at the CWS. She writes about social updates of the Nepal youth community, helps planning our local campaigns as well as fundraising events.'